Sadly due to lack of snow we have made the difficult decision to cancel the 2022 Sundance Winter Festival.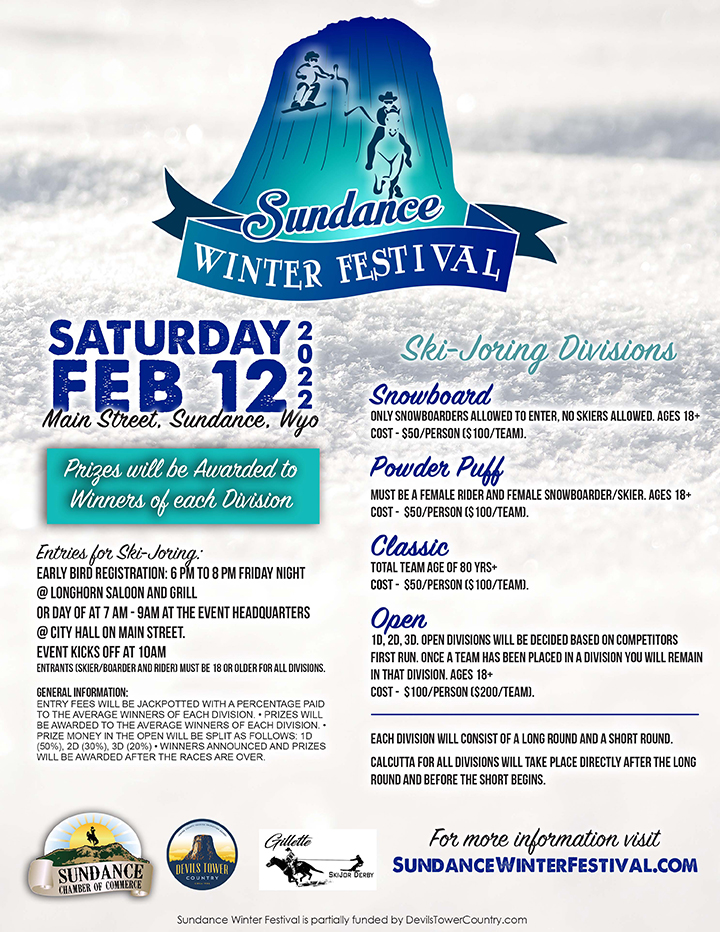 Grab a friend and join the Ski-Joring fun as a cowboy on a galloping horse or the skier being pulled down Sundance's Main Street through an obstacle course complete with snow jumps.
Main Street
- Sundance, Wyoming
Divisions:
Snowboard (Only Snowboarders allowed to enter, no Skiers allowed, 18 yrs or older to enter)

Powder Puff (Must be a female rider AND female Snowboarder/Skier, 18 yrs or older to enter)

Classic (Total Team Age of 80 yrs or Above)

Open Division 1D, 2D, 3D (Must Be 18 yrs or Older to Enter)
Entry Registration:
Early Bird Registartion 6pm - 8pm at Longhorn Saloon or 7am - 9am at the Event Headquarters on Main Street.
Ski-Joring Start Time: 10:00 am
Order of Events: Snowboard | Powder Puff | Classic | Open
Entrants (skier/boarder and rider) must be 18 or older
Race Time: 10:00 AM Races Begin on Saturday February 12th
9:00 AM Race Volunteer Meeting

9:30 AM Competitor Meeting

9:45 AM Competitor Course Inspection

10:00 AM Races Begin (Snowboard Division First and will go in order as listed above)
Entry Fees by Division:
Snowboard ($50 per person or $100 per team)

Powder Puff ($50 per person or $100 per team)

Classic ($50 per person or $100 per team)

OPEN 1D, 2D, 3D ($100 per person or $200 per team)
General Information:
Entry fees will be jackpotted with a percentage paid to the average winners of each division.

Prizes will be awarded to the average winners of each division.

OPEN divisions will be decided based on competitors first run. Once a team has been placed in a division you will remain in that division.

Prize money in the OPEN will be split as follows: 1D (50%), 2D (30%), 3D (20%)

Calcutta for each division will take place directly after the first round of the OPEN and before the second round begins.

Winners announced and prizes will be awarded after the races are over.
RULES:
One second added for each missed or dropped ring.

Three seconds added for each missed ski gate or jump, both skis and/or snowboard must be inside the gate

Skier and/or snowboarder must have a hold of the rope at the start and finish line.

A dropped rope is a no time.

Skier and/or snowboarder must start from the Skier Box.

No contesting any call made by the flagger or judge.

We suggest no more than 4 runs per horse, we are not babysitters, but we do greatly value our animal athletes.

Any NO times in round one in any division are an automatic disqualification from round two.

Ropes will be available but your own are welcome.

A judge may disqualify any team at any time for disorderly conduct.
Course Design:
In designing our course, our main focus is to provide a safe venue for horses, riders, skiers and spectators. We will have a straight track approximately 700' in length. Our track designers work with what mother nature gives us, and will include jumps, rings, and ski gates. Horse track safety is our top priority.
Horse Boarding:
Competitors are responsible for their own boarding.
Vet:
Crook County Veterinary Services - 7 WY-116, Sundance, WY 82729 - 307-283-2115
For any questions on the registration form please call: 307-299-4144