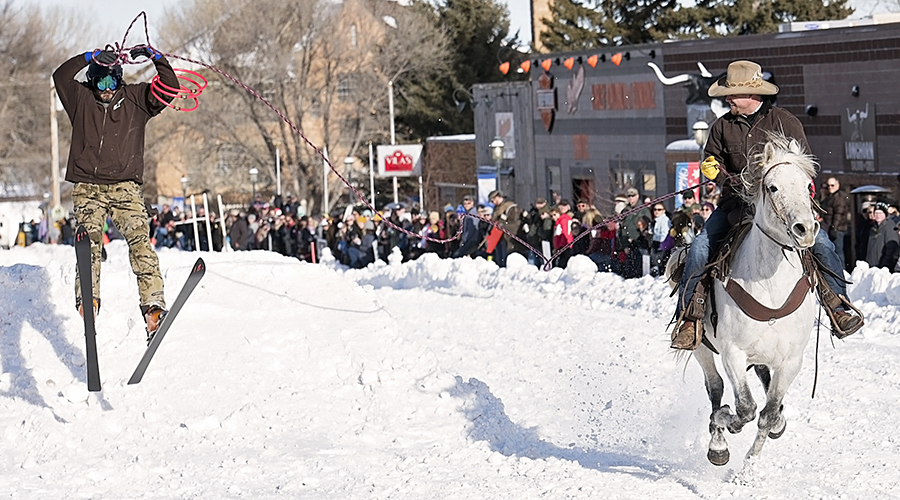 Grab a friend and join the Ski-Joring fun as a cowboy on a galloping horse or the skier being pulled down Sundance's Main Street through an obstacle course complete with snow jumps.
Saturday February 16th, 2019
Main Street - Sundance, Wyoming
Divisions:
Boarder Guns (yes we have a snowboarding division), Girly Guns, Young Guns (18 - 34 yrs old), Classic Guns (35 and up), and the Open (this division is for everyone and anyone over the age of 18)
Entries for Ski-Joring:
Early Bird @ the Longhorn Saloon and Grill on Friday night from 5pm - 7pm or 7 am at the Event Headquarters
Ski-Joring Start Time:
9:00 am
Order of Events
Boarder Gun Division, Girly Gun Division, Classic Guns, Young Guns, and Open
Other Important Information
• Entrants (skier/boarder and rider) must be 18 or older
• Each competitor (skier/boarder) can only race a maximum of three (3) times, or as determined by the race organizers. A separate entry fee must be paid each time by rider and skier/boarder.
2018 Entry Fees:
Open $50/person ($100/team)
Girly Guns, Young Guns, & Classic Guns-$25/person ($50/Team)
Entry Fees are cash only. Entry Fees will be jackpotted with a percentage paid to the winners of each division. Prizes will be awarded to the winners of each division.