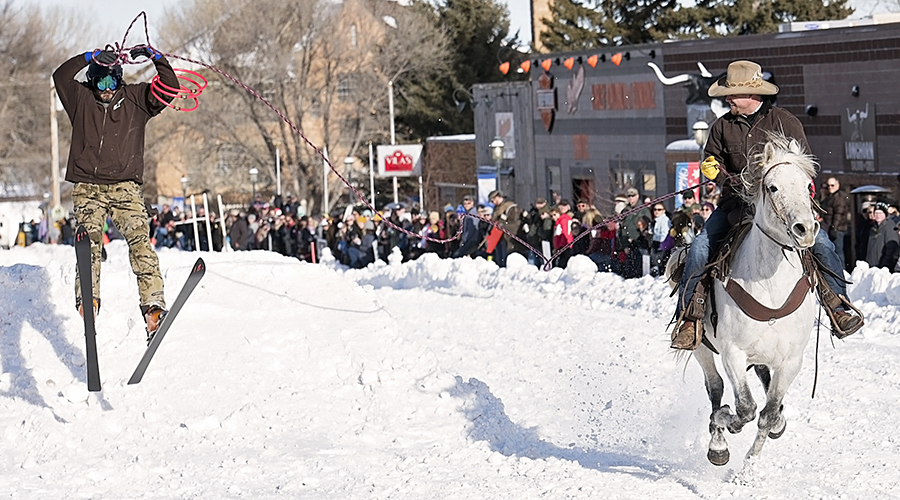 Grab a friend and join the Ski-Joring fun as a cowboy on a galloping horse or the skier being pulled down Sundance's Main Street through an obstacle course complete with snow jumps.
2021 Event Canceled due to lack of snow. We hope to see you Feb 19th, 2022!
Crook County Fair Grounds - Sundance, Wyoming
Divisions: (Subject to change, please come back closer to the event for the most up to date information)
Young Guns, Classic Guns, Gurly Guns & Outlaw (Boarder) and the Open (this division is for everyone and anyone over the age of 18)
Entries for Ski-Joring:
Early Bird Registartion 5pm - 7pm at Longhorn Saloon or 8 am at the Event Headquarters at the Crook County Fairgrounds.
Ski-Joring Start Time: 11:00 am
Check back for the 2021 Schedule of events.
Order of Events
Outlaw (Boarder), Gurly Guns, Classic Guns, Young Guns and Open
Other Important Information
• Entrants (skier/boarder and rider) must be 18 or older
• Each competitor (skier/boarder) can only race a maximum of three (3) times, or as determined by the race organizers. A separate entry fee must be paid each time by rider and skier/boarder.
2020 Entry Fees: (Check back for entry fees & rules for 2021)
Open | Pick One, Draw One - $100/Person
Young Guns, Classic Guns, Gurly Guns & Outlaw (Boarder) | $25/person ($50/Team)
Entry Fees are cash only. Entry Fees will be jackpotted with a percentage paid to the winners of each division. Prizes will be awarded to the winners of each division.